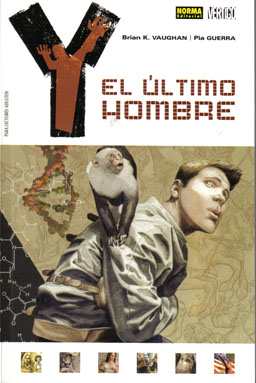 Brian K. Vaughan - Pia Guerrra - Y, el último hombre (Y, the last man)
[CBR | Español | 596.08 MB | Comic | 2002-2008]
Y: El último hombre (Y: The last man, en inglés) es una serie de cómics de ciencia ficción ganadora del premio Eisner a la mejor serie en 2008. Creada por el guionista Brian K. Vaughan y la dibujante Pia Guerra para el sello editorial Vértigo de la compañía norteamericana DC Comics.
En el verano del 2002 una plaga de origen desconocido acaba en unos instantes, de repente, con todo esperma, feto o mámífero completamente desarrollado con un cromosoma Y, o lo que es lo mismo, de género masculino. Los únicos mámíferos machos que sobreviven, por causas desconocidas, son el escapista amateur Yorick Brown y su ayudante-mascota, un pequeño mono llamado Ampersand
Consciente de su condición de especimen único en el nuevo orden mundial, Yorick inicia un viaje para intentar reunirse con su novia, una estudiante de intercambio que ha quedado atrapada en Australia
Y: El último hombre se ha convertido, junto con Fábulas, en la última sorpresa de la línea Vertigo de DC destinada a lectores adultos, y entre las dos han conseguido revitalizar la línea en EEUU durante el 2002. Ambas series debutaron con apenas unos meses de diferencia, y tienen en común una premisa atractiva y ser cómics perfectamente recomendables para gente que no lee tebeos habitualmente.
DESCARGAR